Procedural Geometry Analysis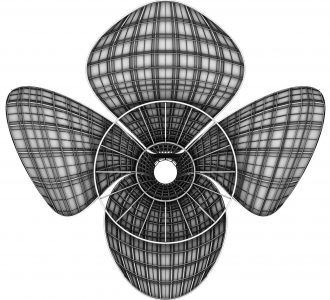 The new Mumbai Airpor project by Zaha Hadid Architects will hold a double curved roof supported by petal shape columns. The columns' covering is seamless in the vertical direction, so petals divisions are a series of vertical scallops built using prefabricated Krion panels. As a consequence of this seamless shelter, the structure of those panels is based on vertical fins attached to the building's steel structure. To demonstrate and analyze this construction system, we did a 3D model and simulation algorithms to understand how columns will be built optimizing the construction and reducing auxiliary elements and labour work on-site to assembly the prefabricated panels. Algorithms allow us to create iterations with different solutions and applying optimizing strategies.
Column & Ceiling Structure
Petals Structure Analysis & Cladding system
Optimization Strategy and Petals Panelling
Every column's panel is unrolled, named and calculated deviation from its borders. For fabrication purposes, optimization strategies are applied to reduce material waste and panel's variations, so fewer manufacturing moulds are required.
Some renders of the project courtesy of Zaha Hadid Architects