Procedural Geometry Analysis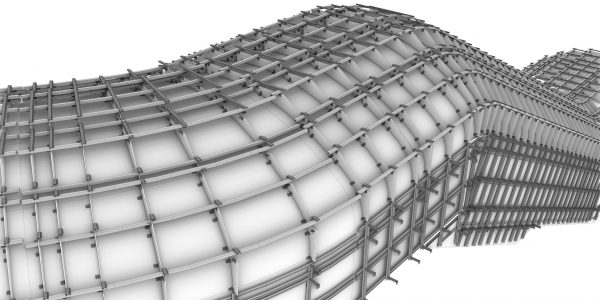 The commission is to analyze the geometry of the new subway station La Défense in Paris. The project is wrapped with a double curve white skin that protects the pedestrian areas, subway platforms, or lobby spaces and follows the passenger's traffic flow. Besides, this new skin will be built using prefabricated modules of Krion, shipped from a factory in Spain and assembled on site. Simultaneously, a 1:1 mockup is built to test the construction and manufacturing processes following the same method as in the Opensky project.
Algorithms are applied to produce multiple project analysis (geometry deviation, modules curvature, optimization strategies, etc.) besides bill of quantities and other quality checks analysis producing more accurate, reliable and flexible results. The scripts also help to test different construction solutions and apply them to many project areas.
The skin of the pedestrian tunnel's design simulates multiple pedestrian flows and walk paths. Its geometry is optimized for manufacturing purposes, reducing the moulds used, decreasing the project's final budget and construction complexity. However, the optimized geometry deviates from the original one only 5.2 mm in the worst-case parts showing subtle changes from the initial geometry.
Curvature and Module Analysis
Next drawings show different analysis and optimization protocols carried out to reduce manufacture costs and maximize construction efficiency like moulds analysis and curvature studies of all project areas.
To verify the proposal's construction feasibility, the client required a 1:1 mockup of a 5 meters segment of the pedestrian tunnel. It was preassembled on factory and sent to the construction site by boat to reassemble all modules on-site.