Executive Design & BIM Management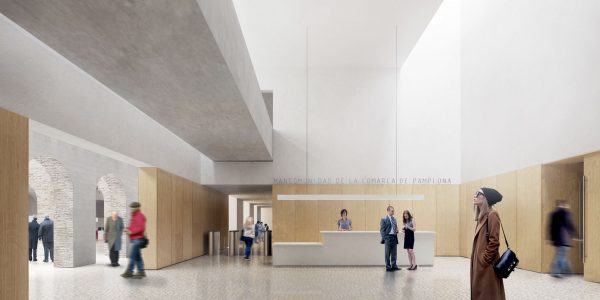 Las Salesas is one of the oldest cloisters located in Pamplona's old town centre abandoned for many years. Although, in 2018 the city council promoted an architectural competition to modify the building's program and incorporate new offices for Pamplona's town hall and other public services. The winning proposal tries to add new programmatic spaces inside the old cloister preserving all the essential elements like the church, the facades or the inner patios. Those patios are modified to create new free spaces inside the building and act as climatic devices to benefit the building users. The church is adapted with some woodcraft elements to hold the new conference hall of the city of Pamplona. The collaboration also incorporates the artist Esther Pizarro into the design phase to produce a ceiling light based on Pamplona's city map.
–1st prize in an international competition promoted by the city council of Pamplona.
The BIM Model guarantees continuous coordination between all agents related to the design and construction of the project. It was developed for the construction and executive design phases extracting the bill of quantities, construction simulations, and as a database for the building's operation & maintenance phases.
The church will be reconverted into the new conference hall of Pamplona's city. Some woodcraft cabins will be added to incorporate this new program maintaining the atmosphere of the original site with the praying cabinets. Besides, a new library will be located at the top, and an extra press area will be settled into the old chorus place. To light-up space, a full ceiling light will hang from the domes representing an abstract vision of Pamplona's urban structure, the rivers, and the city's principal connections.
The new patios play an essential climatic role in the project design, enabling sustainable strategies to reduce energy consumption. They add different solutions like plant walls, roof's lattice or rainwater storage systems to minimize the building's energy consumption and, therefore, its carbon emissions.